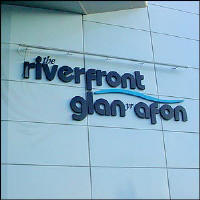 MEETING JOE STRUMMER AT THE RIVERFRONT
The Riverfront will be hosting a month long tribute to The Clash front man with Joe Strummer Month which will kick off with the passionate punk comedy Meeting Joe Strummer on 1 – 3 November 2007 at 8pm.
In the early 70's, Joe Strummer ended up in Newport whilst hitch-hiking back to London after a summer spent on a farm in Wales. He ended up hanging out with the influential art college crowd and joined his first band The Vultures. Legend has it he even learnt to play the guitar here! In December, it will have been five years since his death so The Riverfront thought it would be a good time to remember this rock legend in a place that was so influential to him.
Meeting Joe Strummer attained huge success at last year's Edinburgh Festival. Middle Ground Theatre Company is delighted to present the inspirational and moving punk comedy which has been written and directed by Paul Hodson and stars Huw Higginson (The Bill) and Steve North (London's Burning).
The show follows the lives of two young men, one middle-class, one working-class, from adolescence in 1977 to middle-age as they are transformed by Joe Strummer and The Clash's potent mix of rock n' roll, iconic imagery and rebel politics.
Featuring a carefully chosen sound track which brings the era of The Clash's to life, it is must-see theatre for an entire generation. Meeting Joe Strummer was an Edinburgh Festival Fringe First Winner 2006. For theatre, music, cinema and comedy fans alike, Meeting Joe Strummer is a must-see piece of theatre with tremendous performances.
For more information about Joe Strummer Month, please contact The Riverfront Box Office on 01633 656679 or visit www.newport.gov.uk/riverfront
Joe Strummer Month Diary:
Thursday 1 November Opening of Josh Cheuse's Joe Strummer photographic exhibition in
the gallery (this exhibition will be on for the whole of November)
6.30pm – 7.30pm Local Bands
8pm Meeting Joe Strummer in the main theatre
Friday 2 November 6.30pm – 7.30pm Local Bands
8pm Meeting Joe Strummer in the main theatre
Saturday 3 November 6.30pm – 7.30pm Local Bands
8pm Meeting Joe Strummer in the main theatre
Monday 12 November 7.45pm Joe Strummer: The Future is Unwritten in the cinema
Tuesday 13 November 7.45pm Joe Strummer: The Future is Unwritten in the cinema